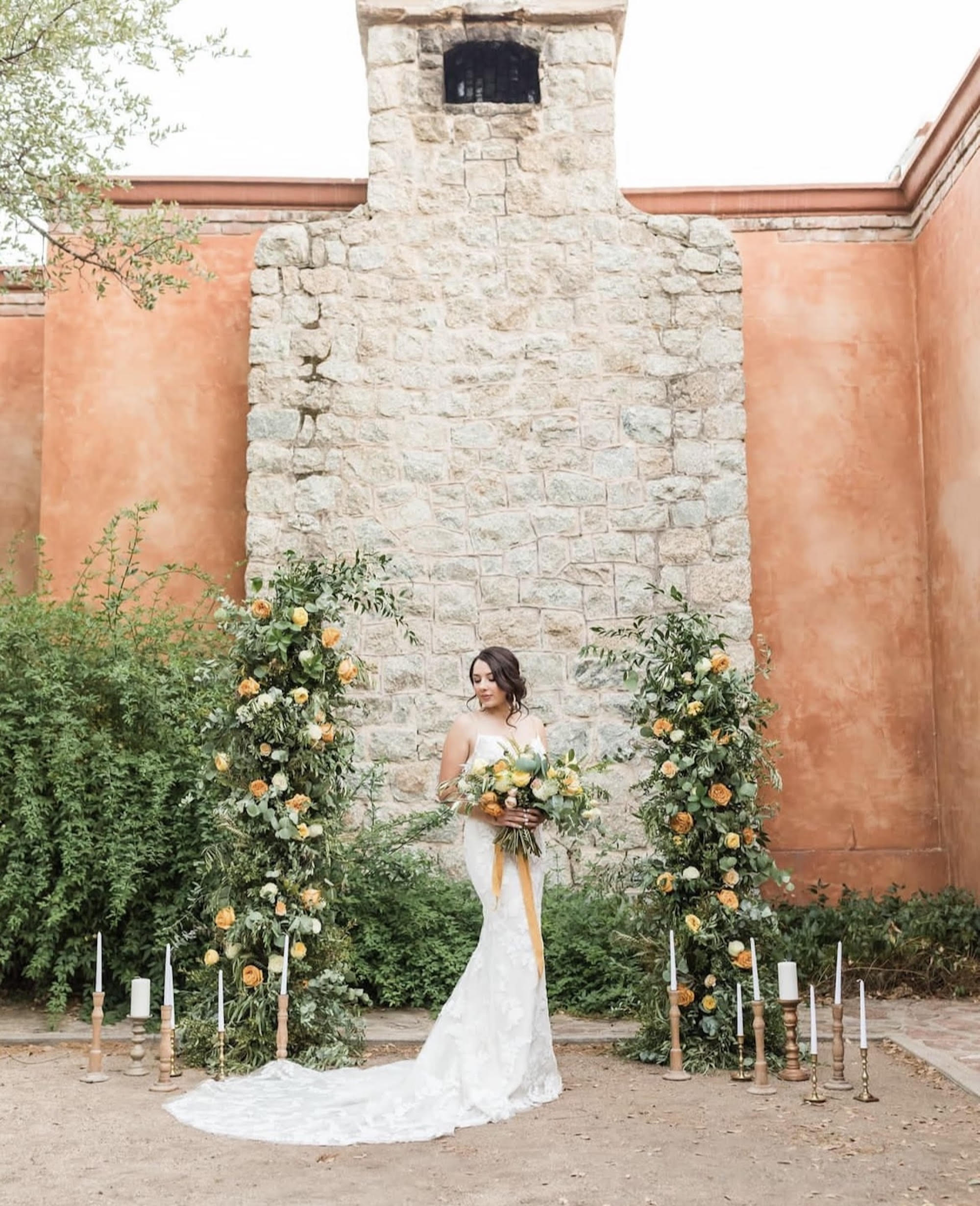 Say Your Vows at a Place that Wows
El Rancho Robles may be Southern Arizona's best kept secret. Less than 1 hour from Tucson and 2 hours from Phoenix, our hidden gem where the high desert meets the foothills of the Catalina Mountains, is sure to wow your friends and family!
Our venue provides the perfect backdrop for your dream wedding, without breaking the bank. Our two large and lushlawns, Ceremony Lawn and Reception lawn, are surrounded by mature trees, cacti, stunning architecture, including large arches, stone bridges, stone walls and fountains and they can accommodate up to 300 guests.
Our iconic Carriage House and Hacienda House provide impressive indoor options for your reception, rehearsal dinner, shower or brunch.
With multiple options for both indoor and outdoor celebrations, it's truly:
With multiple options for both indoor and outdoor celebrations, it's truly:
Your Day, Your Way.
"Robles" is the Spanish word for "oak trees." Our oasis at 4500 feet of elevation, is surrounded by majestic oak, juniper, cypress and olive trees. The ranch is a sanctuary which provides relief from the brutal Arizona sun. We are typically 20° cooler than Phoenix and 12° cooler than Tucson during summer! Guests will also be captivated by breathtaking sunsets and dark skies showered with thousands of visible stars. It truly makes for a magical experience that you and your guests won't forget.
Our dedicated staff takes pride in our ranch and provides a professional touch with a hometown feel. They will be with you every step of the way, helping your vision of your big day come to fruition.
From the stunning natural beauty to the impeccable service, coupled with charm and sophistication, the ranch is sure to have what you are looking for.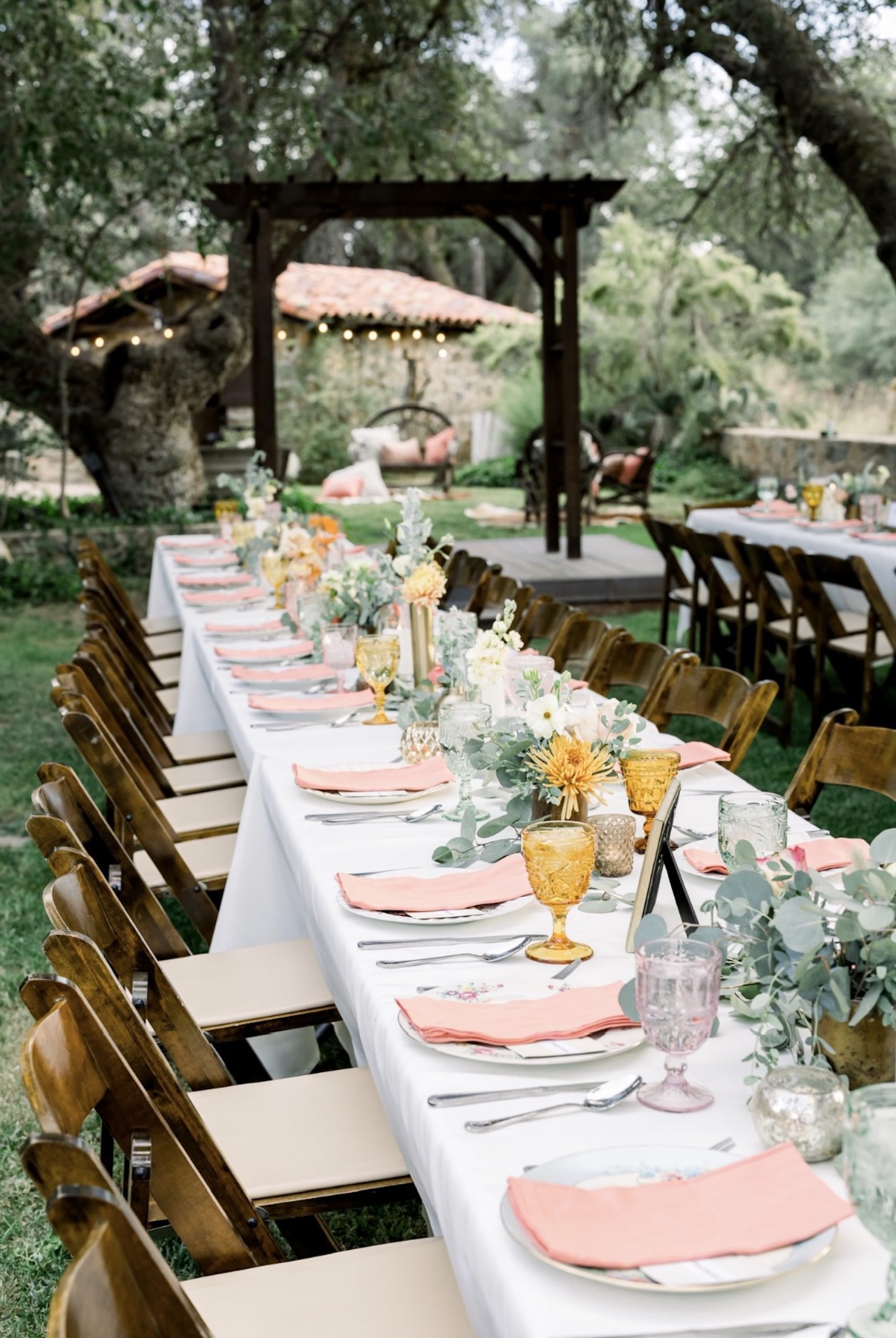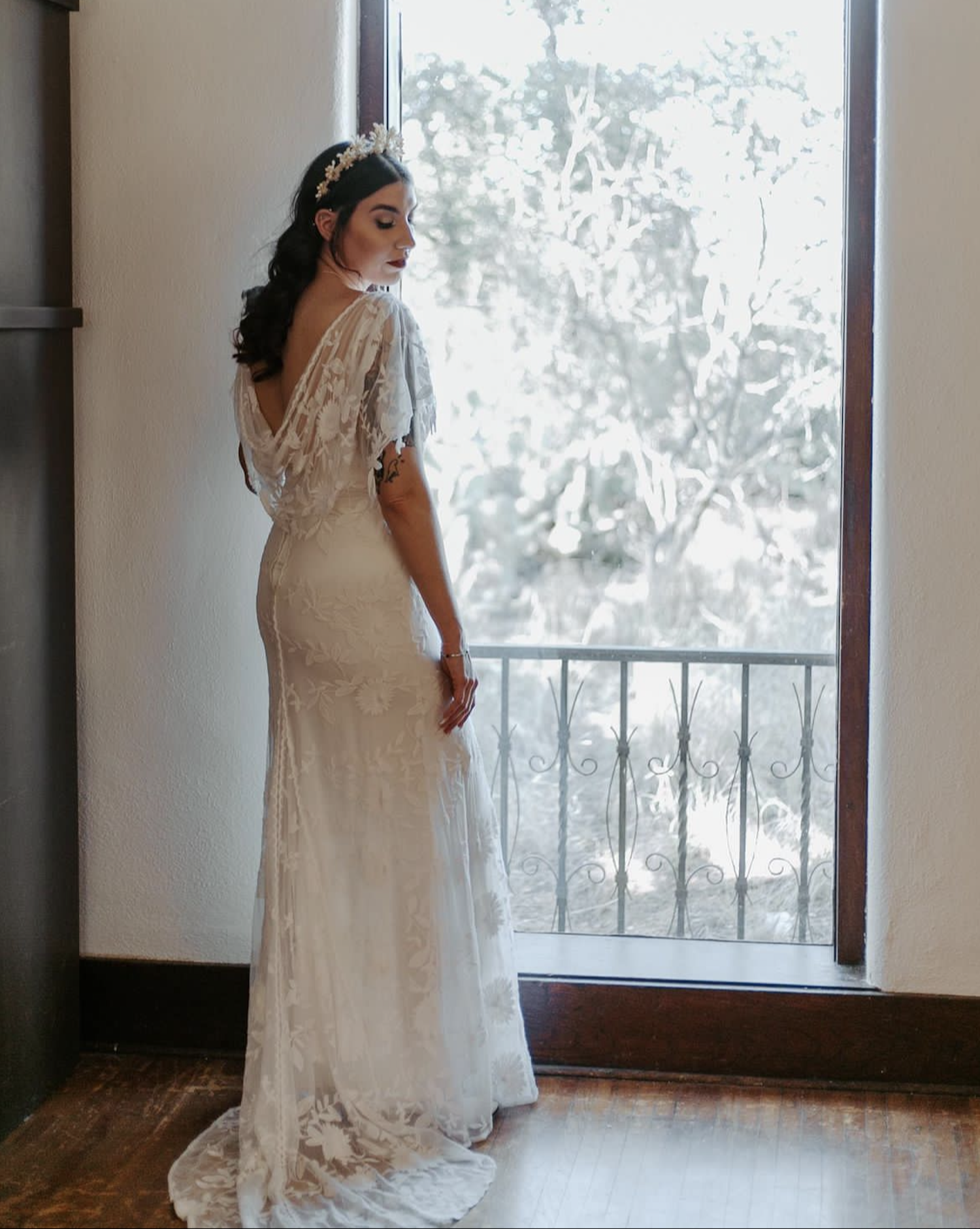 From its stunning natural beauty, charm, and rustic elegance, to its devoted and caring staff's impeccable service, El Rancho Robles is the perfect setting for your momentous day!
BRING YOUR DREAM WEDDING TO LIFE! SET UP A COMPLIMENTARY CONSULTATION WITH OUR SEASONED WEDDING MANAGER.
(520) 896-7651.
El Rancho Robles Weddings Include:
Ceremony Lawn with Altar
Indoor or Outdoor Space for Reception (4 options)
1 hour Rehersal
Up to 150 Cream Padded
Fruitwood Chairs (each additional guest is $15/person)
Wedding Suite (for wedding party to primp at before ceremony)
Speakeasy (to keep the party going from 1Opm-1am for up to 65 guests)
60″ Round Tables
8′ Rectangular Tables
Ivory Linens
15×15′ Dance Floor (upgrades available)
Water Station at ceremony Site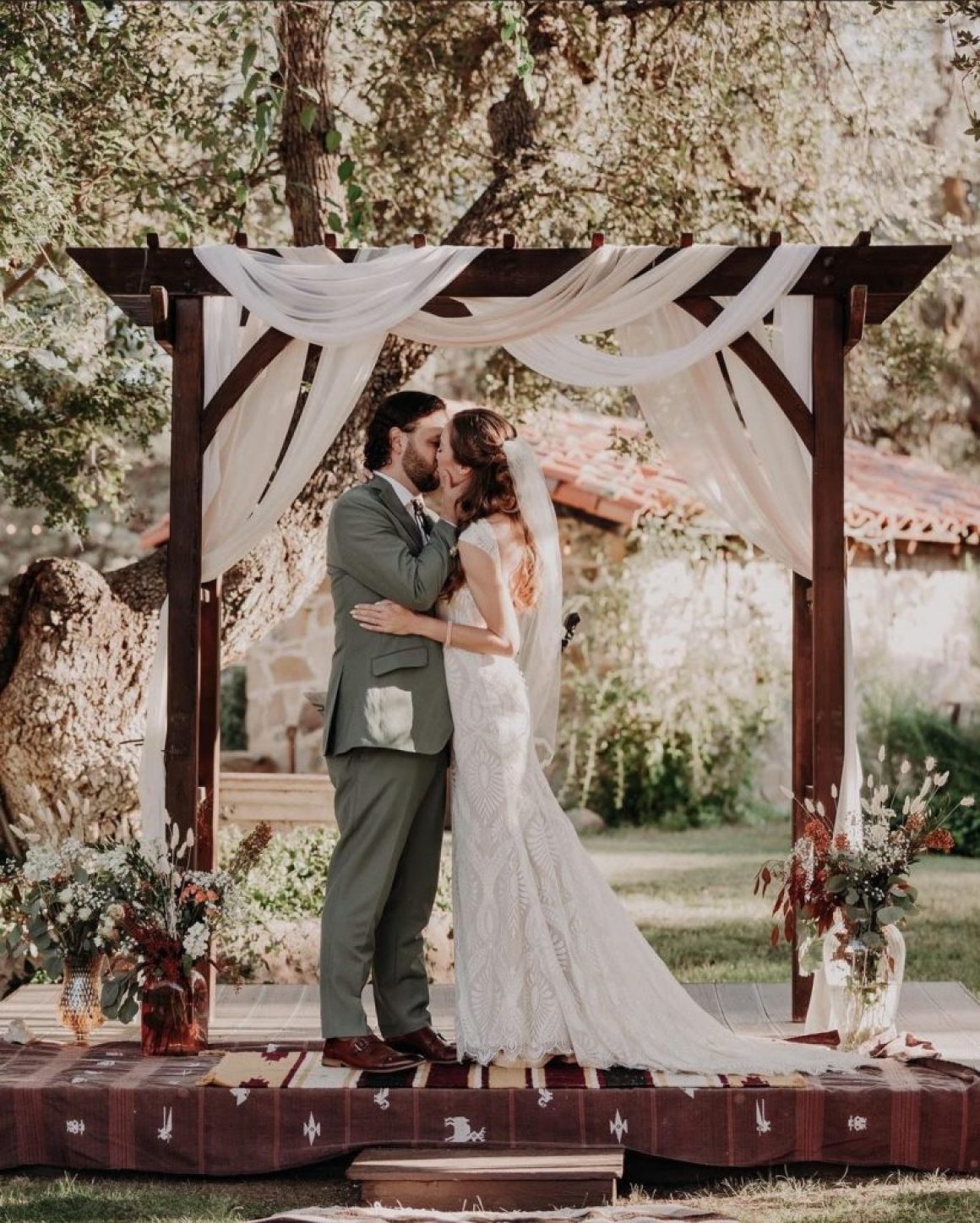 CEREMONY LAWN
This beautiful, lush lawn is lined with our signature oak trees and nestled alongside the historic Hacienda Complex. The wooden altar and platform are waiting for you to adorn it to your vision.
RECEPTION LAWN
This sprawling lawn is the primary focal point of the ranch and the gorgeous backdrop to showcase your big day! It's surrounded by plenty of greenery, mature trees, lined with string lights, and houses a couple of the biggest agaves you've seen! The beautiful stone fountain is a favorite photo spot. There's plenty of room for up to 300 guests to celebrate with room to spare for a dancefloor, a bar, lots of tables,dj stand or band area, a food truck or buffet and it's right off of the Hacienda's commercial kitchen and close to restrooms and guest rooms alike.
WEDDING SUITE
This charming two story space in the historic Spanish style Arch Building makes for the perfect place for a bride or groom and their wedding party to get ready for the big day! This suite is located next to an intimate courtyard that is close to the center of all the excitement, while still being hidden away so you can peacefully enjoy your momentous occasion. Upstairs, you'll find the spacious Library. Complete with a fireplace, leather couches, a full-length mirror, a prep station for hair and makeup and Its gorgeous arch window; the perfect backdrop for dress photos. Downstairs from the Library is the attached Arch 4 suite; complete with a full bathroom and accommodations for up to four wedding party guests.
DONKEY BAR
This rustic and quaint tiny bar is the perfect setting for the cocktail hour between the ceremony and reception. Inside this classic stone structure is a vintage mural of donkeys, which is how it got its name. You and your guests will love taking pictures here!
CARRIAGE HOUSE
This spacious shabby-chic is set in the historic Stable Building's courtyard. The space's high ceiling and sliding barn doors, provides an indoor/outdoor experience. Guests can take in the beautiful views of the ranch as well as enjoy the comfort of an indoor setting (including two large restrooms.) Carriage House provides a blank canvas to paint your vision!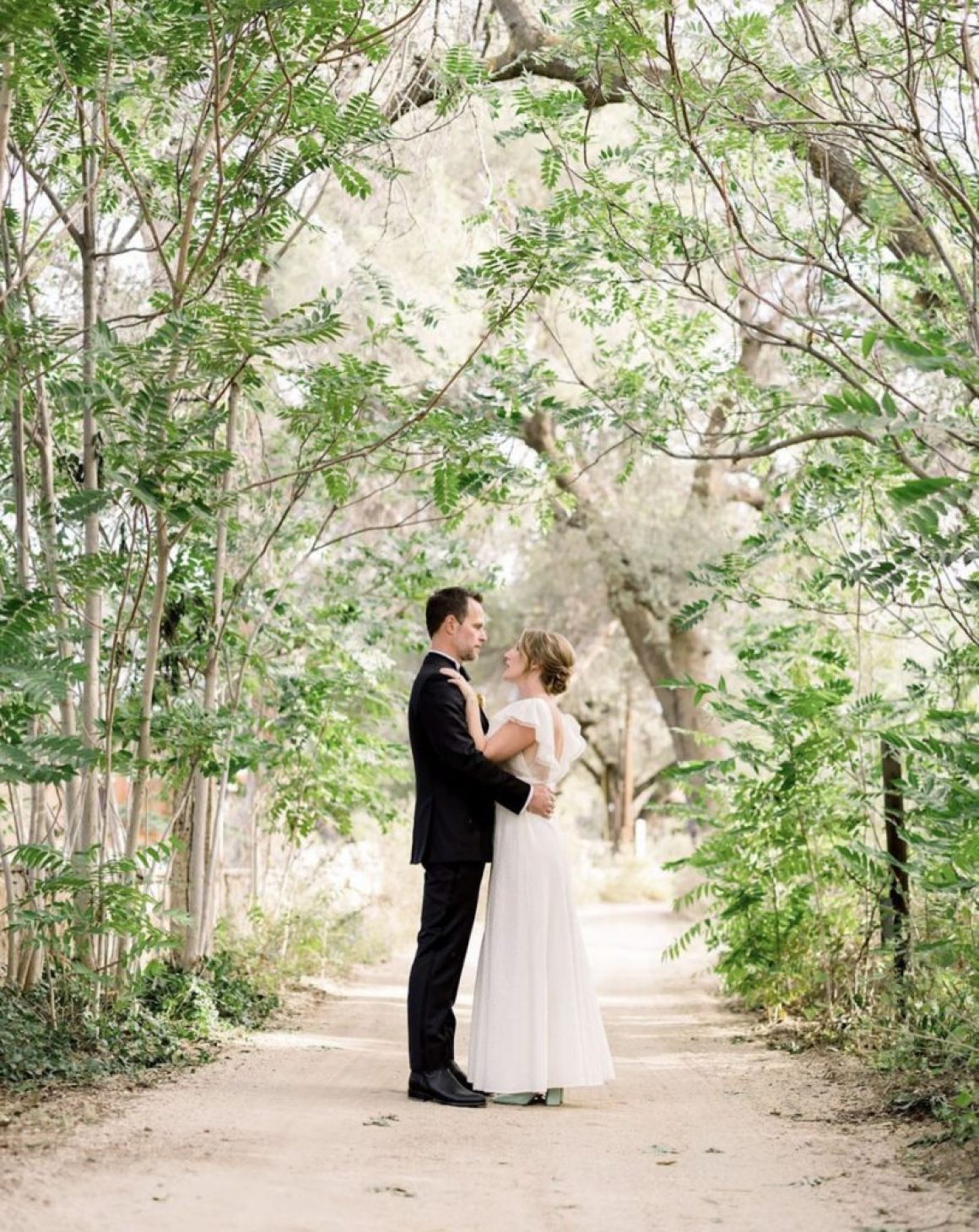 HACIENDA COMPLEX
Our historic Hacienda is the heart of the ranch and lies at the center of the property. It dons a commercial kitchen, an elegant dining room, a large lounge with a giant fireplace, a cozy atrium with another fireplace, two bistro style patios, three guest rooms and our Speakeasy! This space is perfect for rehearsal dinners, smaller, more intimate receptions and your morning after the wedding brunch.
SPEAKEASY
When the amplified music turns off at 10pm head down to our Speakeasy located in the basement of the Hacienda House! You and 65 of your closest friends and family will love the vintage curved bar and chill vibe of the cocktail lounge.The Tucson Mafia used to own El Rancho Robles in the 1940's and its walk-in safe is still intact and a very cool spot for photos! Keeping the party going in the Speakeasy long after the DJ or band has left, is an awesome way to end the night!
HONEYMOON SUITE
Your first night as a married couple should be spent somewhere romantic and private. We have several casitas that offer both.
EXTRAS/UPGRADES
●  Extra lighting
●  Additional Chairs
●  Upgraded Chairs
●  Upgraded Linens
●  Upgraded Dancefloor
●  Heater Rentals
●  Event Tents
●  2 hours for photos at Life Under the Oaks Lavender Farm (next door)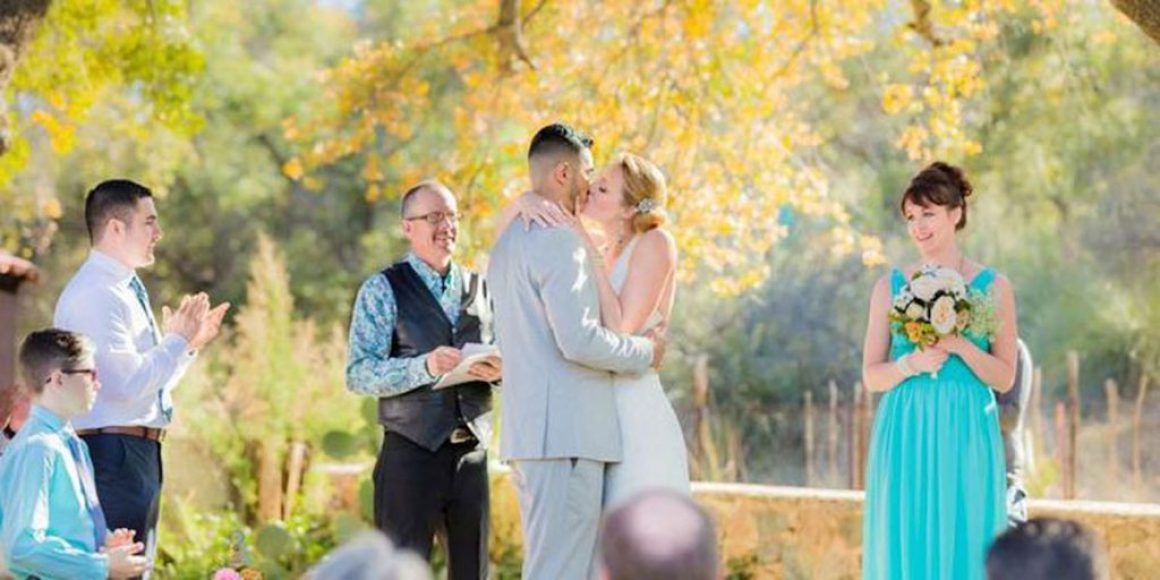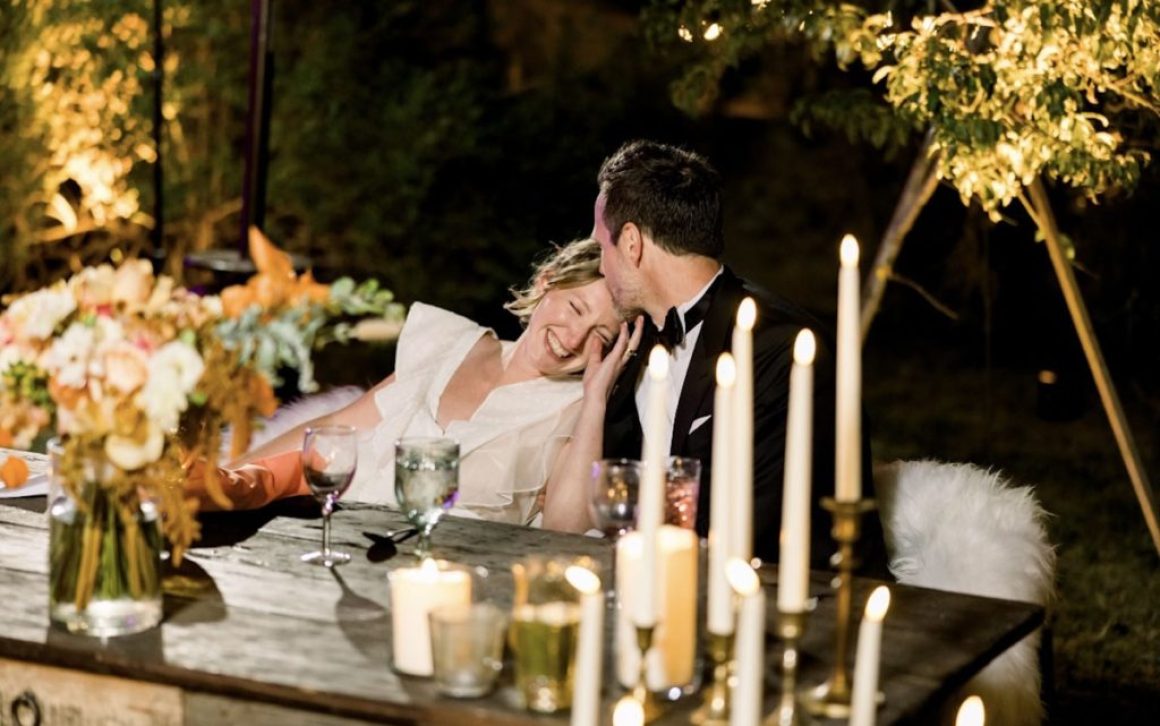 CATERING GUIDELINES
Please note that when using our kitchen, you will be responsible for PROVIDING ALL OF THE FOLLOWING:
●  Pots, Pans, Cookware
Dinnerware
Glassware
Silverware & Serving Utensils
Knives
Food Storage Containers
Serveware
The kitchen must be cleaned and left in the same condition as it was upon use.
ALCOHOL/SMOKING/DRUG GUIDELINES
If alcohol will be served at your function, it must be served by a professional Arizona licensed bartending service. We strictly follow all of the Arizona Department of Liquor Licenses and Control guidelines, as well as all state and federal laws. 
Nobody under 21 shall consume alcohol on our premises. 
We have the right to refuse to serve alcohol to anyone as per our discretion. 
All illegal substances are strictly banned on the premises.
No smoking in guest rooms or any of our indoor spaces. Please have common courtesy and smoke at least 20 feet away from guest rooms. Your guest must discard used cigarettes and butts in ashtrays and garbage cans or be charged the cleanup fee for.
SET UP & TEAR DOWN
Party may come to set up for their event the day of the event, beginning at 9am. Party is responsible for hanging all decorations and taking all decorations down by 12pm following the event date. Event staff will manage the trash cans during the event.
INSURANCE
Event host liability insurance is required for both the rehearsal dinner as well as the wedding and reception. Liquor Liability Insurance is required and will be provided by the licensed bartending service.
MISCELLANEOUS
● No fireworks, open flamed candles, firearms, sparklers, illegal substances allowed.
● All amplified music must be off by 10pm sharp due to Oracle's noise ordinance.